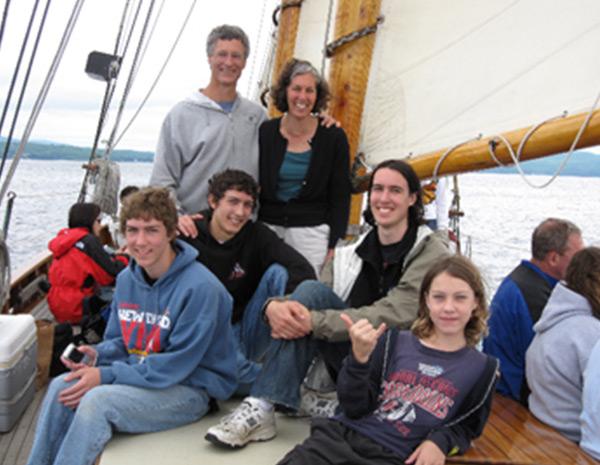 Cahoon Family
"Independence Day" for their child
When Betsy Cahoon's sister mentioned "family camp" to her, she had never heard the term before. A little online research brought up Medomak Family Camp in Maine, and her heart leaped. She had always loved Maine.
The family of four boys was rebounding from a very difficult period. Betsy thought camp would be restorative for her oldest child, but he was tentative about going away. A family camp sounded like a great way to all be together, but she had some initial hesitations since they had never done anything like that before.
"It wound up being a great decision," says Betsy, whose family has come back to enjoy a week at Medomak for six summers.
The summer her family first came, her five-year-old was "attached to her hip," she remembers with a smile. Coming to Medamak gave him his independence. "I knew he was totally safe. It was magical for us," Betsy remembers.
All four boys made fast friends during the week stays, and ate food they would never try at home. "The food is to die for," Betsy says. "It's so relaxing–you just show up for dinner, find a place to sit, and the kids never complain about what's on the table."
Betsy and her husband loved the adult only activities in the morning. The yoga class was basic enough for beginners, easy, and gentle. Her husband loved to get up in the morning and kayak. And there were always the Adirondack chairs for reading or a quick nap.
The creature comforts make this camp unique. "This is not camping," she says, "It's like a sleepover for your family." There are hot showers, clean private baths, good food, archery, family kickball.
"We talk about Medomak all the time," she says fondly. She recalls a time when her third child sat down at the meal on the last night and cried that he didn't want to go home.
"We loved being unplugged," she says. "It's such a peaceful setting, with camp fires every night. Everyone sits around the fire and tells stories, we sing songs, and all the kids tell these corny jokes that everyone enjoyed. It's amazing how quickly you get to know everyone. It's a hard place to leave."
Back to Family Stories